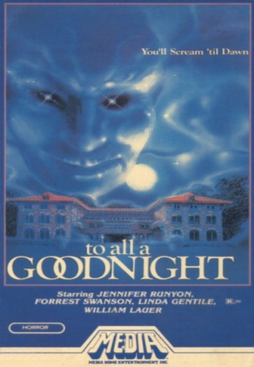 Title: To All a Goodnight
Tagline: "You'll Scream 'til Dawn"
Release Date: January 30th, 1980
An American Santa Slasher Film. Directed by  David Hess (Villain from 'Last House on the left'). features college students having sex and getting killed over Winter Break at a sorority house.
A group of libidinous sorority girls secretly invite guys to party over at the house during christmas vacation.  Then end up getting gouged to death by a maniac in a santa suit.
Includes several topless scenes
one of several "Santa Slasher" films from the 1980s
A Christmas themed slasher filmed in California with no Snow
A Bear Rug is featured in a death scene
Directed by
David Hess
Produced by
Sandy Cobe
Jay Rasumny
Alex Rebar
Sharyon Reis Cobe
Rick Whitfield
Written by
Alex Rebar
Starring
Jennifer Runyon

Forrest Swanson
Linda Gentile

Music by
Richard Tufo
Cinematography
Bil Godsey
Editing by
William J. Waters
Studio
Four Features Partners
Intercontinental Releasing Corporation (IRC)
Distributed by
Intercontinental Releasing Corporation (IRC)
Release dates
January 30, 1980 (United States)
Running time
90 minutes
Country
United States
Language
English
Jennifer Runyon as Nancy
Forrest Swanson as Alex
Linda Gentile as Melody
William Lauer as T. J.
Judith Bridges as Leia
Katherine Herrington as Mrs. Jensen
Buck West as Ralph
Sam Shamshak as Polansky
Angela Bath as Trisha
Denise Stearns as Sam
Solomon Trager as Tom
Jeff Butts as Blake
Harry Reems (credited as Dan Stryker) as Pilot
Jennifer Howard as School Girl