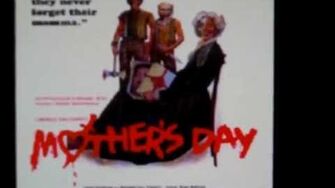 Release Date: September 12th, 1980
Tagline: "I'm so proud of my boys--theynever forget their mama."
Budget: $115,000
Mother's Day is a 1980 American horror-thriller film, directed, co-written and produced by Charles Kaufman, brother of Troma Entertainment co-founder Lloyd Kaufman, who served as an associate producer for the film.
A memorable scene in the film is soundtracked by I Think We're Alone Now by 1960s bubblegum pop band Tommy James & the Shondells.
The plot begins with the long-time friendship of three women, Abbey (Nancy Hendrickson), Jackie (Deborah Luce), and Trina (Tiana Pierce), who reunite every year to take a camping trip. Once while setting their vacation up in the woods, they find their trip turns into their worst nightmare when they are captured by a group of two partially insane punk/"hillbilly" hybrids: Ike (Holdem McGuire) and Addley (Billy Ray McQuade). The punks lead a comfortable life, living along with their mentally abnormal mother (Rose Ross) in an occult hovel situated amidst the wood. All through the movie, their mother goads her sons into acts of rape, violence, and murder. Eventually one of the women is severely brutalized by Ike and Addley, and the remaining two escape before the first dies from her sustained injuries. They soon regroup, arm themselves, and set out for bloody revenge against Ike, Addley, and Mother. After the girls take their revenge at the end of the film, as they are about to leave the woods they are attacked by the mother's deformed sister, Queenie.
Directed by
Charles Kaufman
Produced by
Michael Herz

Charles Kaufman

Written by
Charles Kaufman
Warren Leight
Starring
Nancy Hendrickson

Deborah Luce
Tiana Pierce
Rose Ross

Music by
Phil Gallo
Clem Vicari, Jr.
Cinematography
Joseph Mangine
Edited by
Daniel Loewenthal
Production
  company
Mach Studios, Inc.
Distributed by
Troma Entertainment

United Film Distribution Company

Release date(s)
*September 12, 1980
Running time
91 minutes
Country
United States
Language
English
Budget
$115,000[1]