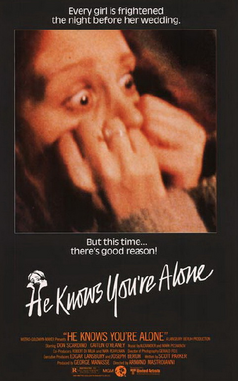 Title: He Knows You're Alone
Tagline: "Every girl is frightened the night before her wedding. But this time...There's good reason."R
Release Date: Sept. 1980 He Knows You're Alone (1980) is known as one of the earliest slasher films directly produced and inspired by the success from Halloween  (1978). It was filmed in Staten Island, NY. It features stalk and slash elements as the villain preys upon soon-to-be newly weds.
"A young bride is murdered on her wedding day by the man she rejected for her current fiancé Len, a police detective. Several years later the killer starts a crime spree, murdering brides to be. Len believes the killer of his fiancè has returned and tracks the crimes. The killer stalks bride to be Amy, and her friends from college, Nancy and Joyce. Amy is having second thoughts about her planned marriage. Her ex-boyfriend Marvin returns and tries to rekindle their relationship." from wiki
Tom Hanks makes his Big Screen debut in a small role...producers cut out his death scene after they took a liking to him off screen...His character was a psychology student.
The film was inspirational to Kevin Williamson (Scream), Sream 2's opening scene is very reminecent to this films, in which a female is murdered at a movie theater. In an early draft of the script, randy meeks mentions the similarities.