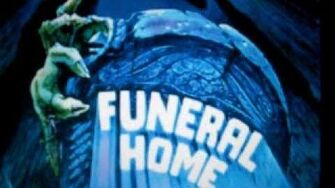 Title: Funeral Home (AKA Cries in the night)
Release Date: October 3rd, 1980
Tagline: "Some Things Never Rest In Peace."
Funeral Home (also known as Cries in the Night) is a 1980 Canadian horror/thriller directed by William Fruet starring Lesleh Donaldson, Kay Hawtrey, Jack Van Evera, Alf Humphreys, and Harvey Atkin. Both Donaldson and Humphreys would later become cult favorites of the horror genre for the film, and also Donaldson's roles in Happy Birthday to Me (1981) and Curtains (1983), and Humphreys in Death Weekend (1976) and My Bloody Valentine (1981). Fruet would later direct the 1986 slasher film Killer Party.
A young woman named Heather (Lesleh Donaldson) arrives at her grandparents' (Kay Hawtrey, Jack Van Evera) house, which used to be a funeral home, to help her turn the place into a bed-and-breakfast inn. Soon after they open, however, guests begin to disappear.
The budget for the film was roughly $1,431,780.00 American Dollars, and was filmed from July 23, 1979, to September 12, 1979.
According to actress Lesleh Donaldson, actress Kay Hawtrey and director William Fruet did not get along well, stating that "She couldn't stand him. She hated him. Just hated him." and that she recalled Hawtrey "...being a nervous wreck nearly every morning. And then she claimed Bill was making her do stuff at the end that was too much for her. In the scene where she's down in the cellar. There were a lot of crew guys doubling for her, with the axe and swinging stuff around. It wasn't her doing that."
On director William Fruet, Donaldson stated she "knew that he would do things off-the-cuff at the last minute, like changing a scene. [She] might not have been called in that day and suddenly I'd get a call telling me, 'Get to the set now!' and I'd have to do a scene I hadn't memorized yet. It was tense that way."
The film was released in Canada in 1980 by Frontier Amusements and in America in 1982 by MPM.
It was released on VHS by Vouge Video in Canada in 1982 and Paragon Video in 1983 and again in 1986 as a big box reissue.
Kay Hawtrey as Maude Chalmers
Gandmother of Heather and owner of the former funeral home.
Kay Hawtrey as Maude Chalmers
Lesleh Donaldson as Heather
Barry Morse as Mr. Davis
Dean Garbett as Rick Yates
Stephen E. Miller as Billy Hibbs
Alf Humphreys as Joe Yates
Peggy Mahon as Florie
Harvey Atkin as Harry Browning
Robert Warner as Sheriff
Jack Van Evera as James Chalmers
Les Rubie as Sam
Doris Petrie as Ruby
Bill Lake as Frank
Brett Matthew Davidson as Young Rick
Christopher Crabb as Teddy
Robert Craig as Barry Oaks
Linda Dalby as Linda
Gerard Jordan as Pete
Eleanor Beecroft as Shirley